The following description has been prepared entirely by the current owner, Roberts S. Fastov, Esq., and, at the collector's request, has not been edited by Sloans & Kenyon
Note 1) Henry Clay was a very important early American political figure holding numerous positions, Speaker of the House, Secretary of State, thrice a presidential candidate, and a U.S. Senator. He was the kind of effective leader and politician, that we in the United States would welcome to the gridlocked U.S. Congress today. One of Clay's well-known and often quoted statements was: " "Let...no one who is not above the frailties of our common nature disdain compromise."
Per Wikipedia:
"Henry Clay, Sr. (April 12, 1777 – June 29, 1852), was a lawyer, politician and skilled orator who represented Kentucky separately in both the Senate and in the House of Representatives. He served three different terms as Speaker of the United States House of Representatives and was also Secretary of State from 1825 to 1829.Clay was a dominant figure in both the First and Second Party systems. As a leading war hawk, he favored war with Britain and played a significant role in leading the nation to war in 1812. Later he was involved in the "Corrupt Bargain" of 1824, after which he was appointed Secretary of State by newly elected President John Quincy Adams, earning the scorn of Andrew Jackson. He was the foremost proponent of the American System, fighting for an increase in tariffs to foster industry in the United States, the use of federal funding to build and maintain infrastructure, and a strong national bank. He opposed the annexation of Texas, fearing it would inject the slavery issue into politics. Clay also opposed the Mexican-American War and the "Manifest Destiny" policy of Democrats, which cost him votes in the close 1844 election. Clay made numerous attempts at becoming president, making five serious runs. He secured a major party nomination three of those times and lost all three elections.
Dubbed the "Great Pacificator," Clay brokered important compromises during the Nullification Crisis and on the slavery issue. As part of the "Great Triumvirate" or "Immortal Trio," along with his colleagues Daniel Webster and John C. Calhoun, he was instrumental in formulating the Missouri Compromise of 1820 and the Compromise of 1850. He was viewed as the primary representative of Western interests in this group, and was given the names "Henry of the West" and "The Western Star." A plantation owner, Clay held slaves during his lifetime but freed them in his Will.
Abraham Lincoln, the Whig leader in Illinois, was a great admirer of Clay, saying he was "my ideal of a great man." Lincoln wholeheartedly supported Clay's economic programs. In 1957, a Senate Committee selected Clay as one of the five greatest U.S. Senators, along with Daniel Webster, John C. Calhoun, Robert La Follette, and Robert Taft. (Footnotes omitted.)
Note 2) The foregoing considerations, the following Artprice.com records regarding Sartain sales and the value of the indisputably authentic Henry Clay autograph warrant the conclusion that the presale estimate of $4,000-$6,000 is reasonable and justifiable.
First, Artprice.com records only 16 Sartain print sales from 1993 through October 19, 2012. None of them was this Henry Clay print. A very small print (6 ¾" x 5 1/8") of Martin Van Buren, who was not and is not as significant and popular figure as Clay, brought $550 in 2003. However, a significant number of Sartain's political and American historical prints, comparable in size to this Clay print, bring several hundred dollars more than the very small Van Buren print. The Country Election, after Caleb Bingham, brought $1,000 in 1998, $1,900 in 1997 and $2,850 in 2008. Martial Law, after George Caleb Bingham brought $1,600 in 1996 and $2,300 in 1998. Gen. Marion in His Swamp Encampment Inviting a British Officer brought $1,500 in 1998.
Second, there is an additional and very significant factor which greatly increases the value of this print for presale estimate purposes. A Henry Clay autograph on a fragment of a U.S. Department of State form document was being offered for sale on ebay on October 19, 2012 for $949.99
<![if !vml]>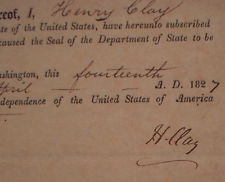 <![endif]>
A short note of 07/20/1818 written by Henry Clay in which he uses and writes his name as "Mr. Clay," but did not sign with his full name, was being offered for sale on ebay on October 19, 2012 for $6,099.00.
<![if !vml]>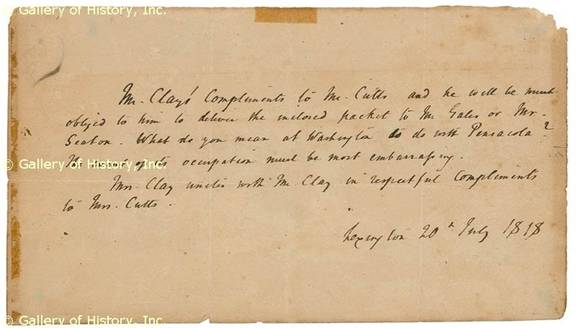 <![endif]>
A Henry Clay signed "Free Frank" (the U.S. Government franking privilege giving officials free postal privileges) annotated with a maximum of 7 words was being offered for sale on ebay on October 19, 2012 for $3,500.
<![if !vml]>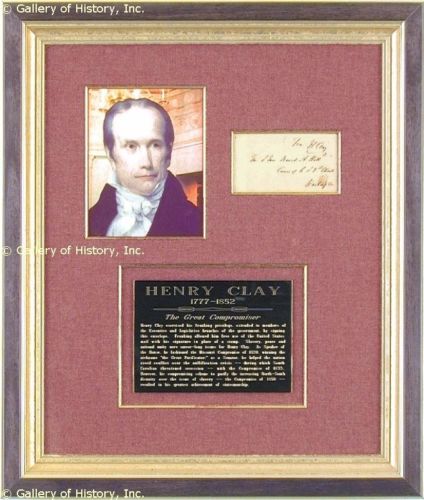 <![endif]>