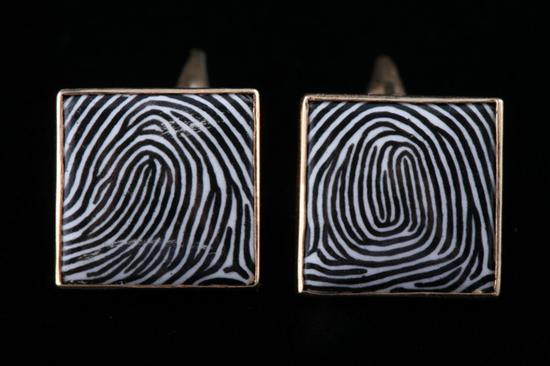 Sale 44 Lot 1334
PAIR 14K YELLOW GOLD AND PORCELAIN "FINGER PRINT" CUFFLINKS. Square gold gramed each center porcelain panel printed with fingerpriting whorl of Leo Bernstein, friend of and financial adviser to Jeane Dixon; wing backs.



PROVENANCE: Estate of Psychic Jeane Dixon, Washington, DC

Estimate $200-300

Accompanied by printed sign explaining significance of cufflinks: "Leo M. Bernstein, Jeane Dixon Museum founder, was once "fingerprinted" by former F.B.I. director J. Edgar Hoover, pictured here with Jeane Dixon, who was also a warm acquaintance. Mr. Bernstein is proud to "donate" his F.B.I. fingerprints, preserved in this special commemorative set of cufflinks!"

Sold for $120


© Sloans & Kenyon. Images, descriptions and condition reports used on this site are original copyright material and are not to be reproduced without permission. For further information telephone Bethesda (301) 634-2330