Crafted over a four-year period by Antonio Gonzalez (America, 20th c., b. Madrid, d. July 25, 2005), a master goldsmith on Philadelphia's famous Jeweler's Row, the Golden Ships of Columbus are unlike any other work of art in the world. Gonzalez acquired blueprints of Columbus' ships from the Spanish government and constructed replicas of the Nina, Pinto, and Santa Maria, using only platinum and 18K gold. It required a lifetime's expertise, and the sacrifice of any normal existence, for the artist to realize his project.

No other material except platinum and 18K gold is found in Gonzalez's ships, not even in the solder.

Born in Madrid, Gonzalez brought his goldsmithing skills to Philadelphia's famed Jewelers Row, where his unique designs - intricate yet controlled - made him a sought after creator of custom rings, pendants, and bracelets. But through the years, Antonio continued to build boats as well - wooden replicas of historic vessels, remarkable for their attention to detail and faithfulness to actual ship design. A master of two disparate crafts, Antonio united his talents to create the Golden Ships of Columbus.

The ships' construction was preceded by a year of preparatory work. During that time, Gonzalez had studied his blueprint...and concluded that he didn't have the tools. In fact, no one did - they didn't exist. Gonzalez custom designed the tools he needed. For example, he created a hammer with a hook-shaped head - a hammer, in effect, that could hammer around a corner - to work the surface within the curved interior of the hull. Gonzalez needed to create an incision running the length of a section of hollow gold wire. The wire would be fitted to the edges of the ships' sails, somewhat like a frame. Only the narrowest cut was required, just enough for the wire to grasp the edge of the paper-thin sail like a tightly shut mouth. For this shallowest of incisions, a lathe capable of minute movement and great steadiness was required. Gonzalez's design included a few two-by-fours, a fishing rod, a door hinge, and the transmission from a vacuum cleaner. From such items, he fashioned a high-precision instrument. The one-of-a-kind lathe was also used to cut the ships' hulls: their curvature made a smooth cut especially difficult, but the sensitive, floating arm of Gonzalez's lathe followed the hulls' curves perfectly.

Construction began in 1989. The first ship to be built was the largest - the flagship, the Santa Maria. He knew it would require the most time. This was partly because of the ship's intricate detail. But more importantly, as the first to be built, it would reveal the project's difficulties. The solutions could be applied to the other, smaller ships, which could then be built more quickly.

Gonzalez took his cues from ship design, not model ship design. This is crucial to an understanding of his work. From the Spanish government, Gonzalez acquired the blueprints for a reconstruction of Columbus's three ships. Scaled down to a 1-62 scale, the golden ships would correspond exactly to the proportions of the actual ships. The Santa Maria, Columbus's flagship, was a nao-Old Spanish for a large ship-meaning it was for cargo, not exploration. A wide-bodied, somewhat slow craft, its very size nonetheless gave it a sort of grandness. At any rate, it rose to the occasion. It is perhaps the single most famous ship in the history of sailing.

One of the more ingenious touches in the original Santa Maria's design was the main sail's attachment to the mast. This ring-shaped harness holding the boom to the main mast was hollow inside and filled with metal balls that allowed easy movement up and down the mast. Though the sails on these reproductions are of platinum and, thus, frozen in mid-billow, their creator nonetheless remained true to the blueprints and recreated this unusual mechanism. This epitomizes the care with which the Golden Ships of Columbus were made.

The Santa Maria wears its crow's nest like a crown. It was certainly a crowning achievement in Gonzalez's reconstruction of the ship. He built the crow's nest so that it could simply screw onto the top of the main mast. But due to the intricacy-and sheer number-of ropes running through the crow's nest, he could accomplish this only by carefully rotating the entire ship-sort of like turning a whole house to screw in a light bulb. Working in miniature has its own difficulties, and in many ways Gonzalez's ships were harder to build than Columbus's.

The Pinta was a caravel, smaller and sleeker than the Santa Maria, with a good deal less superstructure, making it the faster boat. Faithful to each ship's design, however, Gonzalez accounted for more than their basic structures. There was the delicacy of the flags and pennants flying over each ship - and the intricacy of the endless lengths of rope. All the ships' ropes were doubled for thickness and then braided, so they required enormous lengths of gold. The Pinta, for example, has 142 feet of gold rope onboard.

In the case of the flags, luck stepped in. Each boat has one white and two tri-color flags on board. Gonzalez insisted on using only gold and platinum on his ships, so it was a happy coincidence that Spain's colors were red, yellow, and white. These colors could be recreated in red and yellow gold and white platinum. The surfaces of the tri-colored flags appear seamless, as though cut from a single sheet of metal. In fact, they are four separate pieces expertly joined together as one. It is because of small miracles like this that Gonzalez's work is incomparable.

All the pieces actually holding the ships together - all the pins, nuts, and bolts - are hidden. This makes the ships more attractive, but doubly difficult to construct. The Pinta has 61 pulleys - a considerable number in itself - made up of 262 separate pieces. In all, the Pinta has 1,062 pieces, and the Santa Maria, nearly 1,300. Most of these pieces will never be seen by anyone - except, of course, the artist who put it all together.

The golden ships duplicate the original ships not only in their basic designs but in all accoutrements, as well. The Nina and Pinta, for instance, carried lifeboats - so do Gonzalez's reproductions. Vents, anchors, flags, pulleys, cannons, ladders, water barrels, and bilge pumps, even the door handle to the captain's cabin can be found onboard.

Like the Pinta, the Nina was a caravel. Its most striking feature was its lateen sail. Where the other ships had mostly rectangular sails, The Nina's lateen sails were triangular. During the voyage, the Nina reverted to conventional sails, but Gonzalez has kept the beautiful lateen sails, making this smallest of the three ships especially distinct.

Gold and platinum have different melting points. This was an important consideration when attaching the gold crosses to the platinum sails. The added instability of different melting points made an already taxing procedure even more difficult. Each sail is less than half a millimeter thick; and because platinum, the purer metal, flexes less than 18K gold under heat, Gonzalez feared that the cross might pass through the paper-thin sail. The procedure required the utmost care - and then had to be repeated seven times, each sail as vulnerable as the last.

Among art objects, Gonzalez's ships are utterly unique. Nothing else like them exists. To assess the ships' value, some sort of comparison was necessary; the only example the appraiser could find was an arcane art form, the nef. Nefs were small sailboats, crafted in silver, used as table ornaments. But nefs lack the detail of Gonzalez's ships, as well as that painstaking adherence to properly proportioned ship design. Besides which, the nef disappeared as an art form hundreds of years ago. We ask of a work of art that it be singular; the Golden Ships of Columbus deliver on that promise.

Half labor of love and half terrible struggle, building the Golden Ships of Columbus is not, one would think, something to be repeated. But, on the contrary, Gonzalez is upping the ante. His next project, the U.S.S. Constitution, is, if anything, an even more demanding task. Its vast network of sails will be unlike anything ever attempted in gold - and platinum-smithing. The proposed length: one meter. This American frigate will require more than three times the gold and platinum of the other three ships combined. Describing it to us, Gonzalez held his hands out, as though it were already there. "I can't wait to do it," he said. "I can already see it."

In the end, Gonzalez fastened the ships into their carrying cases - which he sheathed in cardboard boxes, to make them look less conspicuous on the street - and in a sudden downpour he walked them back to the bank. In Philadelphia, some cops still walk their beats; Gonzalez found an officer and asked him to make the two-block trip with him, just in case.

The Golden Ships of Columbus are a one-of-a-kind world-class work of art, and this is a purchase few are in the position to even consider. It's our hope that Gonzalez's ships will finally find their final port.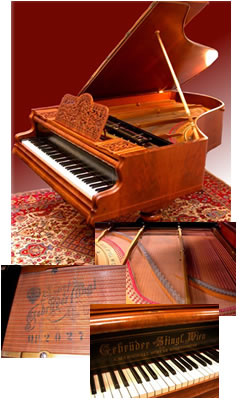 Size: 6'
Style: Viennese Cabinet
Wood: Rosewood
Provenance: Austrian Royal Mistress Mary Vetsera (1871-1889)
The Bösendorfer catalogue of serial numbers indicates that this piano was built between 1841 and 1850. The piano bears the seal of Emperor Francis Joseph I, ruler of Austria from 1848-1916, which suggests that it most likely was built after 1848. With its original ivory keys and action, it is an exquisite example of 19th century Vienna's elegant and tasteful design. It has a warm tone and light action. This piano is most appropriate for the advanced collector.
This rare Bösendorfer was built a quarter of a century before Henry Steinway revolutionized the piano world. Composers such as Mozart, Haydn, Liszt, Schubert, Brahms, and Beethoven all played and composed on pianos with an action similar to that of this instrument. The straight strung plate design, exposed damper rail above the strings, and rosewood case with Hepplewhite-style legs all attest that this piano is a true masterpiece of old world craftsmanship.
This particular Bösendorfer grand piano is an historically significant instrument with a noble provenance. History and mystique surround the first known owner: Marie Alexandrine Freiin von Vetsera, daughter of Baron Vetsera and Helene Baltizzi. During her brief life, Mary (as she was also known) was distinguished by her relationship with Crown Prince Rudolph Hapsburg who, in 1889, committed suicide at Myerling. Mary either took her life or was murdered by Prince Rudolph. Prince Rudolph's death left the Austrian empire without an heir; thus ended the rule of one of the most important European dynasties. After Mary Vetsera's death, the piano was eventually purchased by Richard Mazur, a wealthy businessman who presented it to his fiancé, Josefine Kren geb Wagner. Josefine passed it to her daughter, Erna Konkoly, also known as Lyn Astor, a well-known Austrian actress who is the mother of the present owner.
This Bösendorfer was appraised by a world renowned registered piano technician (RPT).
Additional information and purchase price available upon request.